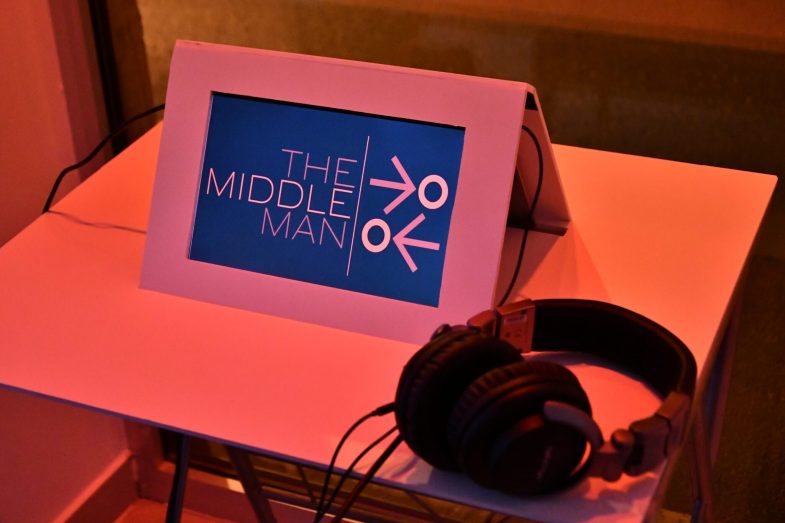 The Middle Man
The soaring of mental disorders reveals the lack of psychologists and psychiatrists. With the modern way of life comes a lot of stress, less time for self and others, the rise of social anxiety disorders, depression, alienation and solitude, low level of empathy; the need for access to public mental health services becomes a high priority. People start to self-organize.
They invent the MiddleMan database of human experiences. It comes in the form of scenarios, what-if interactive parts, and questionnaires; it is based upon anonymous altruist donation of specific real-life stories. The MiddleMan pods are located in all parts of town and are free to use. Naturally, this idea gets appropriated by the corporation to make a profit out of the public mental health crisis.
They invent the digital currency emoticoin, which you can earn by sharing your story for the MiddleMan database, and paying for different types of membership for using the application. You can also earn points by taking the test which is a part of the MiddleMan self-reflect and empathy experience. The amount of owned emoticoins indicates your emotional intelligence level and a certain amount of emoticoins is mandatory for applying for a job, renting a flat, downloading dating applications, university enrollment, etc.
Metamedia Association in collaboration with the Design of Visual Communications department (Arts Academy Split) has organized speculative design workshop entitled 'Augmented Authenticity' that took place August 2-7, 2021 in gallery DAI-SAI in Pula. The workshop was led by Jasna Dimitrovska (Berlin) and pETER Purg (Nova Gorica).
The main objective of the workshop was critical thinking about the phenomena of staged authenticity, which resulted with three prototypes that were presented on group exhibition in gallery of Society of Istrian Architects DAI-SAI during 23rd edition of Media Mediterranea festival. Under the mentorship of Luis Rodil-Fernandez the exhibition hosted guest authors—the students of ArtEZ University of the Arts (Arnhem): Jippe Liefbroer, Sjoerd Mol and Eva van Boxtel. Sound background for the exhibition entitled Speculative Soundscape was mady by Branko Škara and Henry Marić.
Authors: Žan Bedenik, Milica Denković, Lazar Mihajlović, Tea Zbašnik