What IF we needed technology to understand our emotions?
In a society of constant emotional overload, many means have been sought by people in order to control them and maintain inner peace. Some used medications, others turned to religion, prayers and meditation, few would go for group therapy and psychoanalysis, and many would turn to social media to let go of their unwanted feelings. In spite of all those efforts, it was observed that the rate of burnout at the workplace was booming, and that extreme behaviors due to uncontrolled emotions were on the rise as well. In front of this dire situation, people were distressed. Until recently, no viable solution seemed to exist.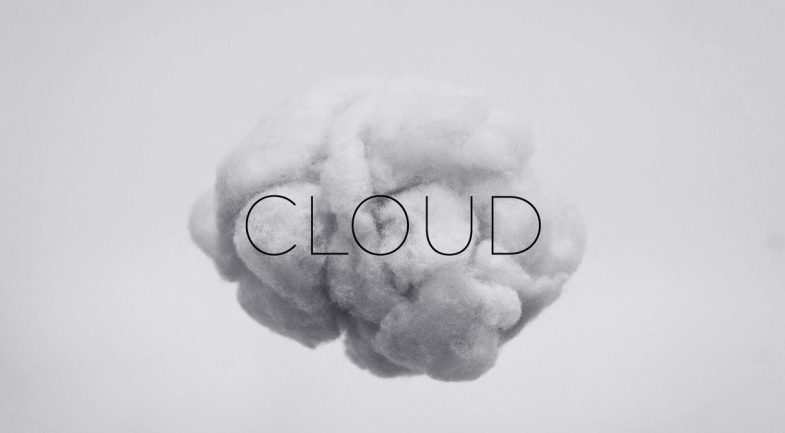 Now you can resolve your emotional imbalance – thanks to the Cloud!
Store your emotions on our digital platform through our Cloud tangible interface. Designed to provide a sense of peace and tranquility while handling it, it facilitates your feeling upload to the Cloud. By using the Cloud, you will become better at dealing with your emotions, helping you to recognise what you feel and guide you on how to react. The Cloud is based on reliable science and technology, not on fanciful practices and beliefs. You will feel and experience a real difference in your daily life by using it.
Through the oblivious usage of technology we lost the ability to understand our emotion, resulting in decaying relationships between and within ourselves. We desire optimisation of our performance—the best solutions through rational decisions—but where does this lead us? Why wouldn't we rather believe our guts and trust others instead of exclusively relying on oneself and technology?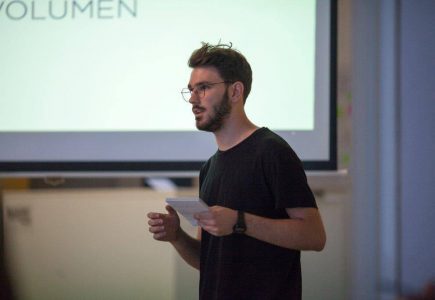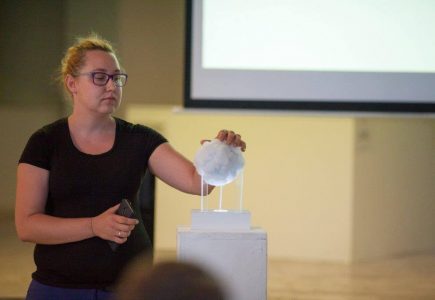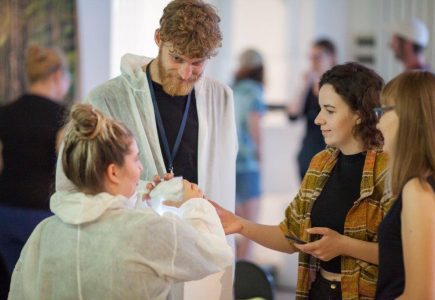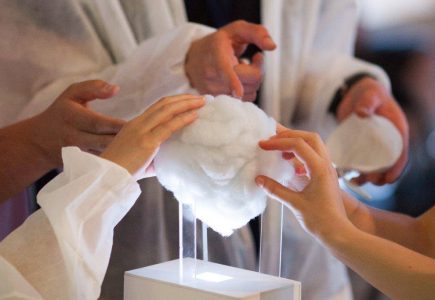 Metamedia Association in collaboration with the Design of Visual Communications department (Arts Academy Split) has organized speculative design workshop entitled 'Augmented Authenticity' that took place August 2-7, 2021 in gallery DAI-SAI in Pula. The workshop was led by Jasna Dimitrovska (Berlin) and pETER Purg (Nova Gorica).
The main objective of the workshop was critical thinking about the phenomena of staged authenticity, which resulted with three prototypes that were presented on group exhibition in gallery of Society of Istrian Architects DAI-SAI during 23rd edition of Media Mediterranea festival. Under the mentorship of Luis Rodil-Fernandez the exhibition hosted guest authors—the students of ArtEZ University of the Arts (Arnhem): Jippe Liefbroer, Sjoerd Mol and Eva van Boxtel. Sound background for the exhibition entitled Speculative Soundscape was mady by Branko Škara and Henry Marić.
Authors: Filip Latin, Ana Markezić, Tea Zbašnik